Northern Lake Champlain 6-4-16
Fish where the fish are, not where the boats are
Since the wind was going to be good (doesn't happen often on Champlain), I decided to take one more fishing trip before my vacation was over. I launched the boat and headed south to fish some reefs that I don't get to fish much because of the wind. Being a beautiful Saturday in June, there was no shortage of boats on the water. I think there was 2-3 bass boats on every piece of rock, but that didn't really bother me. I'll let them have the small fish, because I know where the bigger fish are and I wanted quality over quantity.
I proceeded to drag tubes over the flats. Flats with scattered rock 10'-14' of water adjacent to the rock piles everyone else was fishing. I proceeded to hook nice fish. This pattern repeated itself in several locations. 10 smallmouth came over the rail, all 17"-19" and I lost 6 more that threw the jig when they went airborne.
I'm really amazed by how few people use tubes when fishing smallmouth. To be honest, it's my go to bait for most of the year. I'm not just saying that either because of the Mizmo logo on my fishing shirts. I use tubes because they work and use Mizmo tubes because I believe in the brand (They do have the best tube colors in the business). Mizmo is owned and operated by a great guy, who is a US Veteran, and is trying to make a living doing what he does. And guess what? The tubes are made in the USA. If you want to fish tubes, please check out the ones offered by Mizmo.com
Enough with the commercial... Here some pictures. Check out our photo gallery for more.
Tight lines….
<![if !vml]>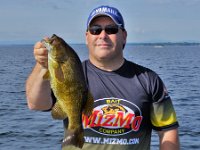 <![endif]>
<![if !vml]>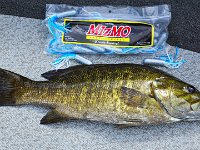 <![endif]>
Northern Lake Champlain 6-1-16
I got a late start today, but hey, I'm on vacation. I hit the water about 7:30 am and I was excited about the forecast of light and variable winds. I arrived at the launch to find a stiff NW wind with white caps on the lake, so…. so much for forecast. I decided to head south and work a couple spots that offered a little protection. It was a bluebird day and water temps were 65 degrees when I headed out. I worked one short line boulders everywhere. It looked like the perfect place for smallmouth, but someone forgot to tell the fish that. That place has produced for me in the past, but the surface temp had dropped about 5 degrees and I think that pushed the fish out deeper.
The wind died down a little so I decided to head out and try out some offshore reefs. Not a lot of action to start, but I started coming across pods of perch…BIG pods of perch. I'm pretty sure half the perch in the lake were on that reef. Fish fry came to mind, so I started to work on catching some food. I managed 60 keeper yellow perch in pretty short order.
With the livewell full of dinner, I started working the flat in 12'-15' of water for smallmouth. A Ghost 4" Big Boy tube from Mizmo was the weapon of choice. It wasn't too long before my rod doubled over and I knew I had a good one. Up like a missile she came and after seeing her, I drove my rod tip into the water trying to keep her from jumping again. After a good fight she was safely in the net. She agreed to a very quick photo OP and I sent her on her way, no worse for wear. I managed a 17" and (2) 19" fish before I had to leave for the day.
The fishing action is really starting to heat up. Get out there and have some fun. Don't forget to check out our photo gallery and visit the websites of our fine sponsors.
Tight lines….
<![if !vml]>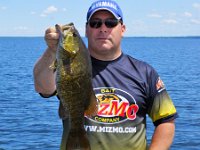 <![endif]>
Northern Lake Champlain 5-30-16
If you fish champlain, you better learn to fish the wind.
As it seems to be most of the time, the wind was blowing when I arrived at the launch. The whitecaps were pretty significant with a stiff SE wind, so I needed a plan to stay out of the wind until things laid down a bit. Bright sunny day and water temps were around 70 degrees. I worked up the eastern shoreline and hit all the points, rocky flats and rocky shoreline. I had a pretty steady pick of cookie cutter smallmouth in the 13-15" range. Fun to catch, but really were not what I was looking for.
I ran out of shoreline I liked that was protected, so I made a quick run to a bit of cover that would buy me a little time to see if the wind would let off a little. Good choice on my part. It was a small piece of cover, but it still gave up 8 smallmouth with 4 between 17"-19". Soft jerkbait in Smokin Shad was the ticket.
By that time, the wind laid down enough that I could access a few more spots. Good thing for that because I was running out of options. I had a couple more hours before I needed to head in, so I made a quick run south and hit a rock reef that was close to deep water. I was only in 4-8' of water with the wind blowing and big rocks everywhere. With that combo I chose to throw a white paddletail on a 1/4oz jighead. That worked well and I picked up a few more smallmouth in the 17-18" range. It looks like some of the big females are moving up shallow again.
It was a good day on the water, until I got back to the launch to find that someone had sashed into my trailer and ruined my lights. No note, not money, just some blue paint from them and a mess. 3 hours of my time and $75 and I was back fishing. I really wish people would be more responsible.
Tight lines…..
<![if !vml]>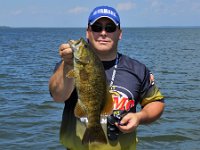 <![endif]>
Northern Lake Champlain 5-28-16
Fishing with my kids is my favorite kind of fishing.
Saturday afternoon my daughter said those magic words… "Hey Dad, let's go fishing". Well, it didn't take a lot of arm twisting to convince me. My son wasn't feeling it and decided to stay home, so it was a solo trip for my daughter and me.
We hit the water and luckily it was a calm day. We headed to a couple spots that I figured that we could get on some fish. White paddletails were working well and we picked up a bunch of LM Bass, with my daughters 20" being the biggest of the day.
We tried a different spot and picked up a bunch of smaller smallmouth and my daughter lost a very large male bowfin at the boat. Hands down, the largest male bowfin I've seen.
We only got to fish a few hours, but as always it was great to fish with her. I'm hoping I can convince my son to come out next time.
<![if !vml]>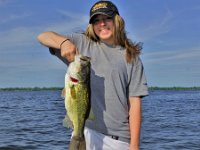 <![endif]>
<![if !vml]>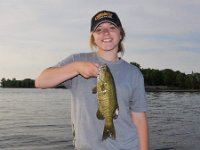 <![endif]>